Mesh Tea Strainer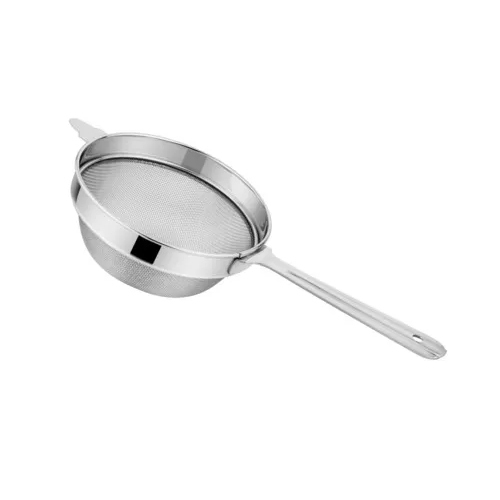 Mesh Tea Strainer
Price And Quantity
Product Specifications
Product Description
Backed by a team of diligent professionals and technocrats, we are actively engrossed in offering our clients the best in grade Mesh Tea Strainer that is widely acclaimed in the marketplace for its superior design, quality, and sturdiness. This is basically used to filter out tea leaves from the beverages. Having made up of first-rate alloyed metal, this Mesh Tea Strainer is a rugged and durable product. It does not corrode or shrink in size and shape due to consistent use. Clients can approach us to get the product delivered to their doorstep within the stipulated time frame.
FAQs:
Q: What is a mesh tea strainer?
A: A mesh tea strainer is a tool used for brewing loose leaf tea. It typically consists of a fine mesh sieve, often made of stainless steel, that is used to strain out loose tea leaves while allowing the brewed tea to pass through.
Q: How do I use a mesh tea strainer?
A: To use a mesh tea strainer, simply place it over your teapot or mug and add your loose tea leaves to the strainer. Pour hot water over the leaves and let steep for the desired amount of time. Once the tea is brewed, remove the strainer and discard the used leaves.
Q: What are the benefits of using a mesh tea strainer?
A: Using a mesh tea strainer allows you to enjoy the full flavor of loose leaf tea while preventing loose leaves from getting into your cup. It also eliminates the need for tea bags, which can be less environmentally friendly.
Q: How do I clean a mesh tea strainer?
A: To clean a mesh tea strainer, simply rinse it under running water and use a soft brush to remove any remaining bits of tea leaves. You can also soak the strainer in a solution of hot water and baking soda or vinegar to remove any built-up residue